We can understand that you are looking for an EOD technical analysis software, that is free – why would anyone subscribe for a commercial software for a few trades in a year?
Luckily, EOD analysis software is our speciality – we have 10+ years experience with it. Let's see how our newest, free software can help you:
EOD analysis support
EOD charts
EOD support does not only mean daily resolution charts. When doing EOD analysis, it is a natural need to observe similar conditions (indicators, patterns) in the past. We help that with:
we made the entire loaded timerage browsable with zooming in and out (use the mouse wheel, or pinch gesture on mobile)
we searched various data sources that go back as long as possible (see below)
the software works quite fast, so it will handle much data well (we have stress tested it)
Free data for the free analysis
If you are looking for a free analysis software, we think, you would not want to pay for the data, either.
Our software, Chartoasis Chili includes EOD currency data, but to keep it as flexible as possible, it can be used with external data, too. Throughout the years we have collected many free EOD data sources, which we are providing you along with data download guides.
These sources include:
commodity data
detailed currency data
We also summerized our experiences with EOD data in the Book of market data which you can download for free.
Importing EOD data
Chartoasis Chili contains a software module that attempts to recognize EOD data formats intelligently when importing downloaded data. If it fails doing so, it will pop up the "Importing wizard", which will help you to import data manually. (You can also invoke it manually, when data seem to be imported improperly.)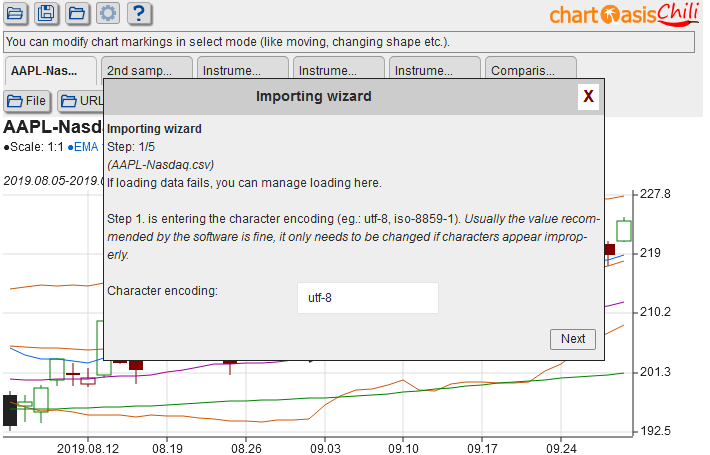 Technical analysis support
Chartoasis Chili provides essential technical analysis features which include:
candlesticks,
moving averages,
Bollinger bands,
technical indicators like MACD, RSI etc.
drawing patterns like channel, wedge etc.
Check out the full set of technical analysis features here.
Try it now for free!
It takes only 1 click, and you can try Chartoasis Chili! You can use it for free as long as you want it.
It loads sample data right at the beginning, so you can try any feature right now.
>> I want to try Chartoasis Chili! <<
(Note: you can switch to candlestick chart with a button.)