Quandl.com is a portal of different kinds of financial data, and a subset of these data is provided for free. Using Quandl.com's standard interface can be a great help if it is used wisely.
Step 1: login / registration
Data is available for registered users only, so as the 1st step you have to register, or log in to Quandl.com. Registration is free, you only have to pay in case of using premium data (which is always marked properly).
Step 2: searching for data

There are multiple ways to find the desired data:
recommended sources (just visit the links):
Bookmarks: if a data source or data series has been bookmarked previously, this is the fastest way to access it. Bookmarks can be found in the personal menu on the top right corner.
Browsing data: the "Explore" link on the top of the page will take you to a parametric search

You can filter to free data only
You can filter by asset class, data type (recommended: prices&volume)
The result may be data series or data sources (latter may need further browsing / searching)

Searching: you can type your search term in the "Search for data" field on the top of the page

The result may be data series or data sources (latter may need further browsing / searching)
You can filter search results just like when browsing data
If you have navigated to a page with a Download button (see Step 3.), that's already a page of a data series. Before proceeding with the next step, consider if you want to use this data again. If yes, it is recommended to bookmark it.
Searching on mobile devices
Searching data on mobile devices is a bit different. On small screen devices, "Explore" link is missing (but links in the home page's bottom section may substitue it to some extent – however, you can not filter to free data), and you can not filter the search results, too.
But bookmarks are still available (by clicking ≡ on the top right corner), so the easiest way is to search data on desktop, bookmark them, and recall them on a mobile device.
Step 3: using data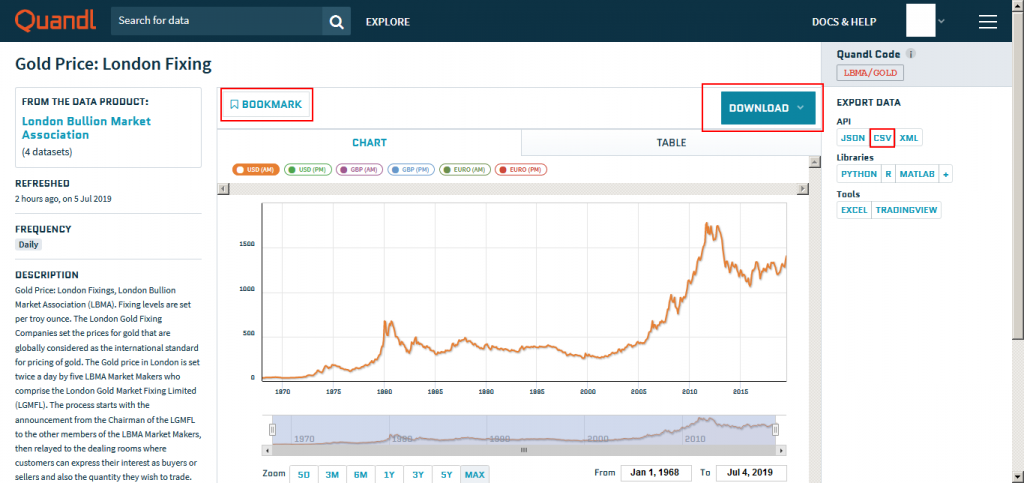 You have 2 options to use data from the desired data series' page
Download to file

Click "Download"
Click "CSV"
Save file
Click "Load file" button (File button) in Chartoasis Chili.
Load the file (you just saved) in the window, that appears.

Use it with a URL (this is simpler on mobile devices)

On the right, below "Export data", click CSV (see the image above!)
Copy the full URL in the upcoming window (eg.: ctrl+C). It is important to include the API key, too – this is different for each user, that's why it is hidden on the example below.
Click "Load from URL" button (URL button) in Chartoasis Chili.
Paste this URL to the URL field.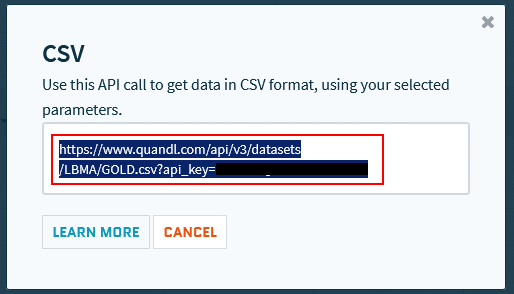 Note: you can get many different kinds of data from Quandl.com, and Chartoasis Chili may not recognize them all. If you load such file or URL, the automatically excuted Importing wizard will help you to load the data.