Book of market data
Do you know that there is market data other than intraday "open-close-min-max" and EOD?
Do you know where to get these data from?
Did you know how many kinds of errors can occur in the market data?
Do you know how many things do you have to take care of when using market data?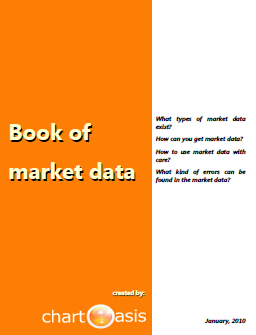 "Chartoasis.com: Book of market data" tells about the kinds of market data and how to get them. Tells important factors of using market data and warns you for possible errors in data that may lead to wrong decisions.
If you are new to stock trading you will find a lot of new things in this book. If you are an advanced trader you will see things in a different way and you may get some new ideas after reading this book.
If you are writing a study this book can be more than useful.
There were no other books about this topic so far. This e-book contains the experiences of our software team gained while the development of Chartoasis.com's free technical analysis software and other stock analyzing tools.
Be informed and download our e-book TODAY for FREE:

Our mission is to inform people, so we chose a free license for this book. You are allowed to share and remix our work (eg.: cite it on your webstie or create an other work based on it) for free with some restriction: you must attribute the original work and the source in a link while releasing your work under the same license. For more details on the license, see the links below:

Book of market data by Chartoasis.com is licensed under a Creative Commons Attribution-Noncommercial-Share Alike 3.0 United States License.
Permissions beyond the scope of this license may be available at chartoasis@chartoasis.com.
To generate such license text for your website, please visit http://creativecommons.org/choose/