Looking for free stock charting software? Our solution, Chartoasis Chili offers charts for almost any stock in the world!
Chart types
Chartoasis Chili offers multiple chart types:
line chart
area chart
candlesticks
comparison chart, which shows the relative change of multiple stocks (see the example below)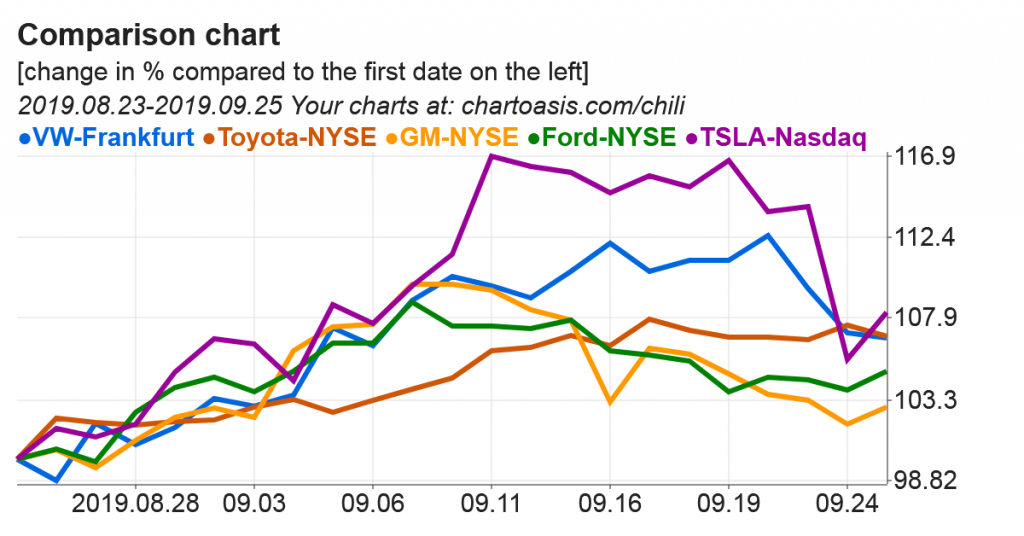 What kind of stocks can it be used for?
Though our charting software contains built-in data for eg.: currencies and gold, one of its biggest advantage is, that it has an intelligent data loader, which allows loading almost any stock's data.
We have 10+ years experience with free market data (we even wrote a free e-book about it), and we collected lots of free stock data sources for almost any stock in the world. You can find the list of the sources here, along with download guides. We also have some sources for detailed currency, mutual funds and commodity data.
But you don't have to worry even if you have a data source, that is not listed on above page. The intelligent loader may deal with, or if it cant't, the Importing Wizard will guide you through the importing process.
Is it really free?
There are lots of situations when someone can not afford expensive softwares for stock charts. Not only when budget is low, but eg.: when someone executes only a few transactions in a year, or being in the learning phase, or when looking for figures for a thesis work… And Chartoasis Chili's basic version may help everyone in these situations.
To make things clear, this applies to Chartoasis Chili's basic version:
it can be used free of charge as long as you want
there will be features that will be available in premium versions only, but none of the free version's features will be moved to the premium version
using it requires no registration
advertisements may appear
the entire software is copyrighted to Chartoasis Limited company / Tőzsdeász Kft.
charts created with Chartoasis Chili's free version shall be shared under Creative Commons Attribution 4.0 International License.
Try it now for free!
It takes only 1 click, and you can try Chartoasis Chili! It runs in a browser (nothing has to be installed) and it works on mobile devices, too.
It loads sample data right at the beginning, so you can try any feature right now.