Features of the free stock analysis software of Chartoasis.com
General features
The most important features of Chartoasis.com's stock analysis software are:
It is free. Users can use it free of any charge.
Works with free market data that have to be downloaded separately and loaded into the application by the user.

We have already collected a lot of free market data sources for the analysis and we have made help pages for downloading them (eg.: Google Finance, RTS, Stooq.com, Yahoo! Finance, Yahoo! Finance UK and Portfolio.hu) so it works easily.
Your analysis can be as up to date as the data you download, there is no dependency from any embedded data source. The data sources we have collected are up to date in most cases, we have marked the sources with long lag. You can find such information on the page of a country's download section.

Data formats are recognized automatically. You do not have to select which column is which etc. when importing market data, loading data is a simple operation.
Supports stocks, exchanges rates, commodities from all over the world. Check the list of supported countries / stocks.
It is based on Java technology so it is available for multiple OS (operating systems)
Our free chart analysis software is an application embedded into the browser, you do not have to install it.

It is dependably available in any place with Internet access: at home, in your office, in your sublet etc.
You can always use the latest version of our chart application because software update is automatical thanks to Java technology.*
If you have questions about how to use Chartoasis.com's technical analysis software, please visit the software's help page.
Technical analysis functions
Technical analysis is supported through the most popular indicators and drawing tools. Indicators are freely parametrizable to be able to fine tune every indicator to fit best the analyzed stock (you can place eg.: 2 MACD charts with different parameters to see which one gives the more accurate signals):
Indicators
Moving average (SMA, EMA, 3 independent MA is supported simultaneously)
Bollinger bands
MACD, MACD historgram
RSI
Stochastic oscillator
OBV
Accumulation/Distribution line
Other tools
Candlestick or curve visualization of price data
Linear and logarithmic price axis
Daily and weekly view
Navigation on the time axis allows observation the entire time frame
You can mark points, or draw channels and wedges
You can save your charts as image to keep a diary of your analysis
Example chart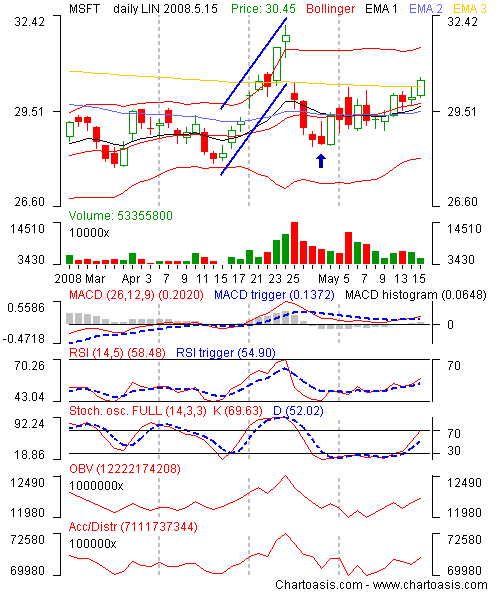 MSFT chart made with the chart software of Chartoasis.com