NSE historical data download
Chartoasis.com recommends downloading market data for share market of India from http://nseindia.com/, because data is more up to date when downloading from there. Data format is recognized by both by Chartoasis.com's free technical analysis software and Chartoasis Sesame automatically.
We are going to explain downloading market data from NSE through an example. In the example we are looking for Tata Steel's historical data on NSE.
1. Visit
http://nseindia.com/
2. Enter the name or a part of the name of the desired stock into the box at the top of the page. Click on the name of the stock when it appears (marked with red on the image below).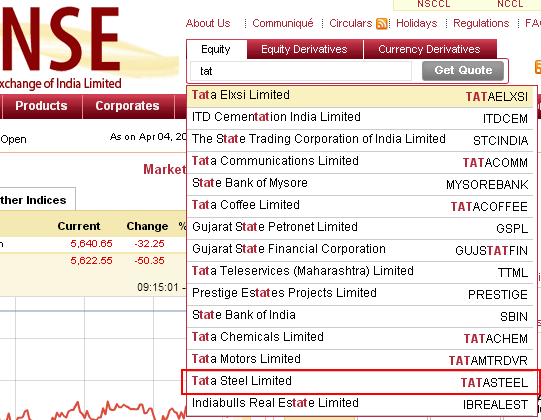 3. Quotes page of Tata Steel appears. Click
"Historical Data"
(marked with red).
4. Now you are at the page where one should set up historical data download:
Click next to "Select a time period" - it must be selected as it looks like on the image below.
Set date in the "To" box to the current day (or to the latest possible date)
Set date in the first box to as early as possible, eg.: 01-01-1994.
Click "Get Data".
5. You may have to
wait a little
- page may update slowly.
6. Click
"Download this data"
when page is loaded.

7. Data file is named "data.csv" by default.
Rename it
according to the name of the stock ? eg.: tata_steel.csv in this case.
You may find solution here if you have any problem with market data you just downloaded.