Regular GBP-EUR charts can tell a lot about the exchange rate, but factors influencing it may be easier to handle with special charts.
(All charts discussed here can be created with the free chart software called "Chartoasis Chili".)
Technical analysis
The majority of chart analysis means technical analysis which allows more or less successful prediction if one has enough experience with it.
Chartoasis Chili is not only free, but also supports the most common technical analysis functions like:
candlestick charts with moving averages and Bollinger Bands
indicators like MACD, RSI, Stochastic oscillator, etc.
drawing often used shapes to the chart like channel or wedge
Though Chartoasis Chili contains built-in EOD data for the closing price of currency pair GBP/EUR, we recommend using richer historical (open-high-low-close) data from Stooq.com in case of technical analysis.
Does the current trend also apply to other currencies?
There are times when multiple currencies change similarly (eg.: in countries, that are geographically close), which reveals, that a regional effect influences currency rates. To highlight such trends, a chart showing the change of currency rates relative to themselves is a good idea: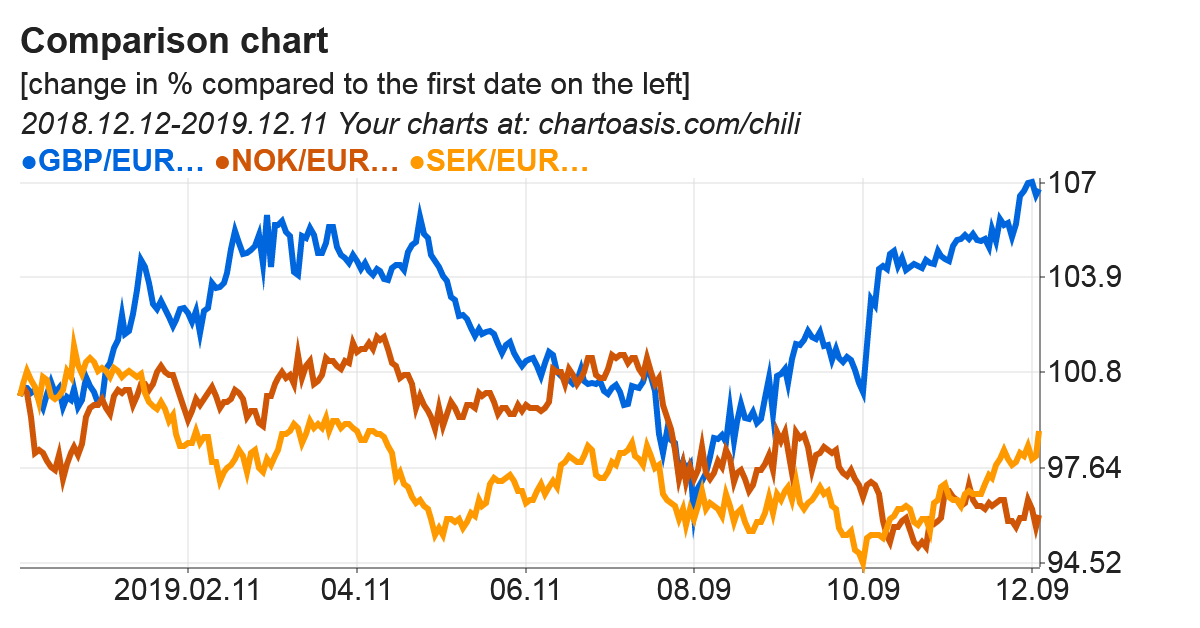 As you can see on the chart above, Norwegian Krone and Swedish Krona are changing more or less similarly but the same trend does not apply to the Brithis Pound (in the given timeframe).
(This type of chart can be drawn easily with Chartoasis Chili's built-in data.)
Is it only the Euro…?
It can also be useful to check whether British Pound vs Euro rate changes similarly compared to an other major currency like USD: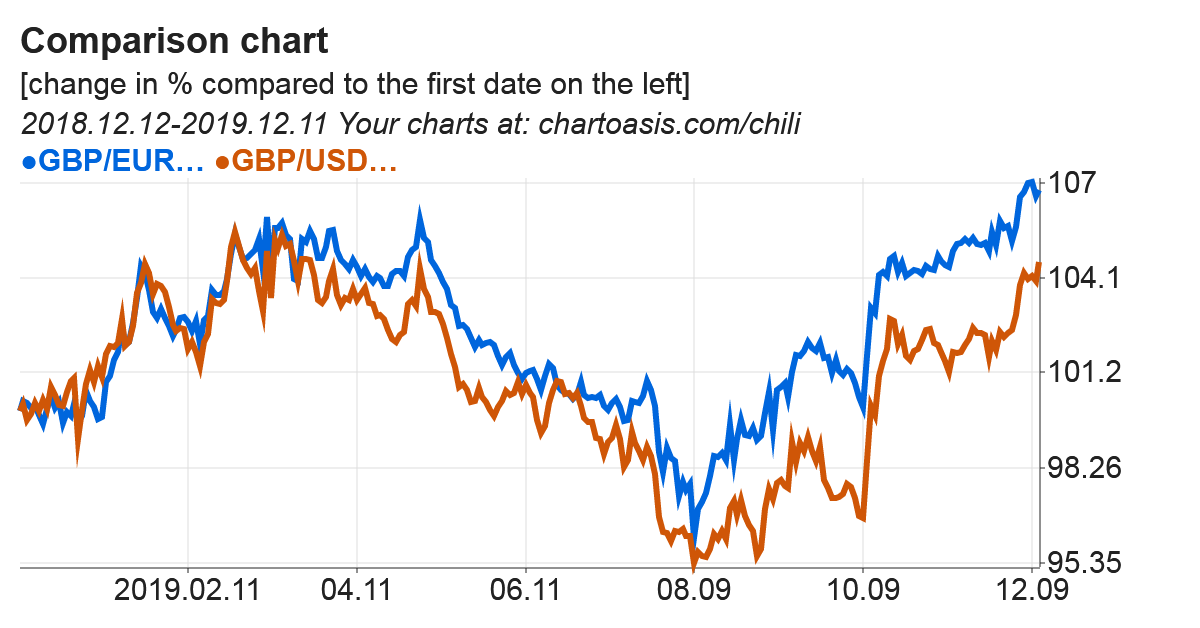 As we can see, in the given time range, GBP/USD and GBP/EUR were changing quite similarly – it is very likely, that it is not USD's and EUR's value that are changing the same way, but it is the British Pound.
Risk disclaimer
Market trend predictions are never 100% safe. Any predictions you make about GBP/EUR, you should always consider, that you can be wrong.
Never risk so much money that can ruin your personal finances.
Always try to limit losses with eg.: stop-limit, with the invested amount of the money, etc.
For more informations, please see our terms of service document.